George Robert White Memorial
1924, by Daniel Chester French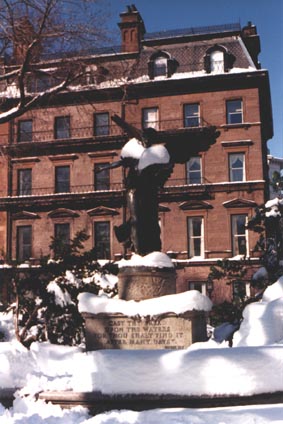 Cast thy bread upon the waters
for thou shalt find it after many days.





Originally titled "The Spirit of Giving" this allegorical figure casts her bread upon the water. This was the first figure that iBoston used to raise money for charity by selling holiday greeting cards on line.

George Robert White was one of Boston's leading philanthropists, having amassed a fortune in wholesale drugs. When he died in 1922, he left the city a five million dollar bequest to build clinics and fund the arts. Within this legacy was a $50,000 gift and request to build a memorial by which he might be remembered.

The bronze statue's sculptor, Daniel Chester French (1850-1931) gained notoriety after executing his first large work, The Minute Man (1875) in Concord.

Other works by French near Boston include: John Harvard and the bust of Ralph Waldo Emerson (Harvard); Death and the Young Sculptor, Milmore Memorial (Boston); Mourning Victory, Melvin Memorial (Concord, Mass.). He collaborated with Edward C. Potterto create the equestrian statue of General Joseph Hooker on the South Lawn of the Massachusetts State House.

French is best known for sculpting the heroic Lincoln in Washington DC's Lincoln Monument, and the equestrians statue of General George Washington in Paris.