Filling The Back Bay
1820 - 1870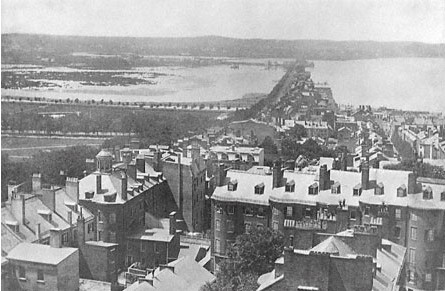 Pictured here is the view looking west from the State House around 1830. The Mill Dam, shown here, extended out as Beacon St. all the way to Brookline. The near in shoreline to its left was the edge of the Public Garden. The Boston neighborhoods of the Back Bay, Kenmore and much of the South End were uninhabitable salt marsh.

The Commonwealth's threat to take this land under public health laws motivated business and city government to agree on a plan to fill and create the 580 acres of the Back Bay in Boston. Nine train cars loads of gravel arrived every 45 minutes, day and night for nearly fifty years. This created the land that Trinity Church and all of Copley Square now sits on.

Filled land is unable to support large buildings. It requires a system of supporting structures that connect the building to to rock. The heavier the building, the greater the support structure needed. All of the buildings in Boston's Back Bay are built with supports passing through fill to bedrock.