Boston Public Library
Charles McKim of McKim, Meade & White 1887-1895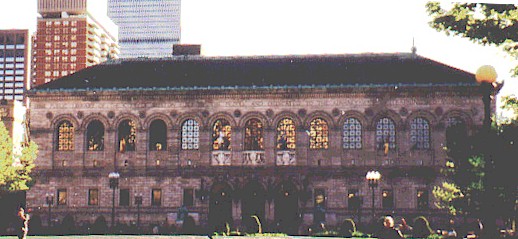 "Free to All"
A manifestation of late 19th Century civic consciousness, the Boston Public Library is one of the most beautiful and celebrated public buildings outside of the nation's capitol.
Its architect, Charles McKim followed in the footsteps of his mentor H.H. Richardson in using classical design informed by a wide range of influences. Both men trained at Ecole des Beaux Arts in Paris after studies at Harvard University. McKim drafted for Richardson during the construction of near by Brattle Square Unitarian Church.

The building is rhythmical, with clear component parts, and a strong relationship to the ground. McKim had a passion for well laid stone and personally selected materials. The entry makes lavish use of 400 tons of polished convent sienna marble arranged with increasing amounts of darker pigment progressing into the building. McKim's Academic-style Second Renascence design draws on a wide range on antecedents, and today is as much a museum of art as it is a depository of books.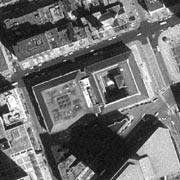 Philip Johnson's extension of the library built in 1972 is harmonious with McKim's masterpiece. Though intentionally subdued, its interior makes noteworthy use of a "floating foundation" providing sixteen suspended platforms, allowing great amounts of architecturally sparse open space. University of Oregon provides excellent history and analysis on their site.