Brattle Square Unitarian Church
H. H. Richardson, 1869-1873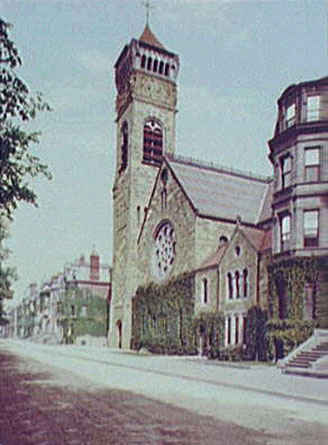 The Brattle fuses Romanesque design and primitive sculpture with an Italian style campanile. The body of the church is of a conglomerate rock, Roxbury puddingstone, and is highlighted with alternating colors of sandstone, and architectural carving by John Evans.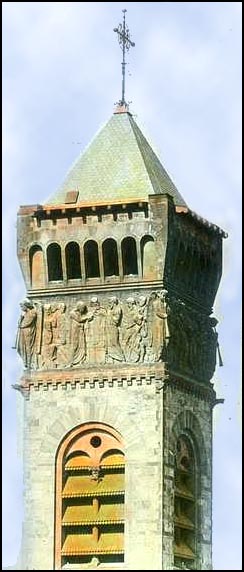 Its prominent 176 foot tower, is adorned with a frieze by Fredrick Auguste Bartholdi, who would later sculpt the Statue of Liberty.

This was Richardson's third church, and his first major Boston commission. While studying in Paris, Richardson journeyed through England in 1859, 1862 and 1865. While this is a Norman-styled church, Richardson's French taught uses of ratios is evident. Consider the smallest part of the church on the right, add one half of its visual height, and that is the height of the next element. Add one half again, and its the height of the campanile.

In the 1860's the North End's Brattle Square Unitarian Church was loosing members due to changes in the city. They commissioned the building of this new church in the newly established Back Bay in hopes of reversing their fortunes. By 1876 the Brattle Square Unitarian congregation had not gained the membership they hoped for in the Back Bay, and became insolvent.

If the First Baptist Church, the building's long term resident, had not relocated to Commonwealth Avenue in 1881, the vacant church would almost certainly have been torn down in favor of residential housing. Instead it still serves its original purposes, and is home to a Baptist Congegation tracing its roots in Boston back to 1665.