Chadwick Lead Works
176 -184 High St.
Architect, William Preston
Built 1887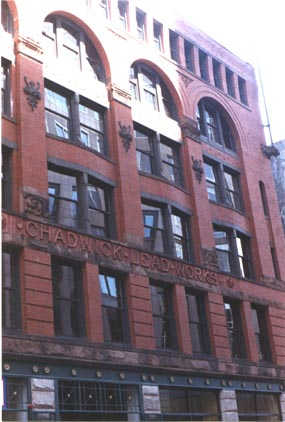 The Chadwick lead works teams with Richardsonian Romanesque style. Its design has a warmth and nobility, which is anathema to the sparseness of today's industrial design.

Four broad round-headed arches add verticality while segmenting the form. The horizontal components: the building's base, shaft and top are the further defined by ornamentation. The base is given a more weighty appearance with ironwork, and rusticated granite. Brickwork on the second floor transitions the base, creating a rhythm of alternative of thin and wide layered supports.

The building's center is focused on Terra-cotta ornamentation, which draws the eye to center of the building, between raised brick dots near the top of the arches and the buildings name between the second and third floor. The brickwork above the third floor windows elegantly bay outward to ripple a wave through this single band of the building. There are gargoyles and grotesques, such as the one holding up the flagpole on the right, and a lance-like arched window on the far right.

The Lead Works is topped by the visually quiet series of rectangular windows, a uniform and clear form as the buildings top. This top order is broken by a shot tower rising still another 30 feet above the building, again bearing the Chadwick name.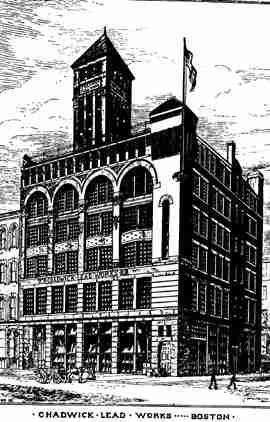 So, who was Chadwick?
Joseph H. Chadwick was born in Roxbury, MA in 1827. As a youth he worked in lead works, and formed his own company in 1862 in Roxbury. He reorganized the company and relocated in 1878 to 173-175 High St., Boston.

According to advertisements of the time they manufactured "famous 'diamond-brand' white lead", pipes, ribbon and tape lad, copper and iron pumps. In 1890 Chadwick purchased Forest River Lead works in Salem, and pidinued to keep his office and possibly some production facilities going on High street until a 1901 merger with Boston Lead Company. The combined firm, Chadwick - Boston Lead was then headquartered in Boston on the corner of Franklin and Congress Streets. Over the next eighty years the Chadwick building was used alternatively as warehouse and office space. In 1981 the building was restored according to National Park Service guidelines and took its current form.