Custom House
Ammi Burnham Young - 1837-47 (base)
Peabody and Stearns - 1913-15 (tower)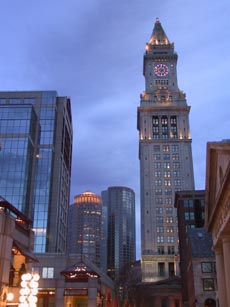 Boston's first skyscraper, the sixteen floor Customs Tower, was an unlikely addition to the city. After all, there was city imposed height restriction limiting buildings to only 125 feet. Further, the existing customs house was a four-faced Greek temple, topped with a dome; an unlikely building to burst forth with sixteen brand new floors.

The Custom House was built at the end of the City docks, to facilitate inspection and registration of cargo. The aerial shot above shows how much downtown land was reclaimed by landfill.

The old Custom House was styled as a four-faced Greek temple. Its has 36 Doric granite columns each weighting 42 tons. Only half these are engaged in supporting the structure, the others are free standing. The entire structure sits on filled land and is supported by 3,000 wooden piles driven through fill to bedrock.

The original Greek temple is so overwhelmed, that it doesn't clash with the granite over steel-framed Italian Renascence Tower above it. The tower's 22 foot wide clock is a city icon, and wonderful to see from rooftops and other less adorned office buildings.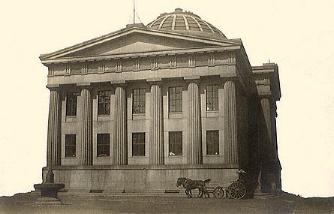 The pidemporary Custom House is creatively reused by the Marriott Corporation who recently acquired and redesigned the building's interior for use as an innovate urban time-share. Investors make an initial payment that gives them a set number of days each year during which they may reside in the tower's luxury condos, or use in exchange for visits to other Marriott properties.