Fenway Park
1912 / 1934
Yawkey Way & Brookline Avenue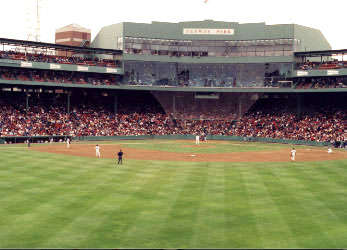 Fenway Park is the country's oldest ballpark in operation. Located in Kenmore Square, Boston, Fenway Park is a jewel box of a stadium. With real grass, and an audience close in and at field level, the stacks of green bleachers provide approximately 33,900 spectators an oasis in the city. There are still hand operated score boards in the outfield, and "bullpens" close enough for players to talk to fans.

Like much of Boston, the peculiar shape of the stadium was improvised to fit Fenway Park between already existing city streets.

Unlike many stadiums which are removed from city life by asphalt, Fenway is bordered by dance clubs, breweries, businesses, pool, and bowling. Boston after all is a walking city, and Fenway is an easy walk from surrounding neighborhoods and nearby subway stops.

Similar to Wrigley Field in Chicago, Fenway Park's design creates intimacy. The left field's short dimensions (the nearest wall is just 315 feet) is compensated for by The Green Monster, a 37 feet tall wall with a history replete with lore. Originally constructed from railroad ties and tin, the walls unpredictable effect on hits of it took on the same mystical quality as dribbling on the Boston Garden's transportable parquet floors.

Likewise, Fenway's right field is considered one of the most difficult in major league ball. The right field opens up into a pocket where hard driven hits can bounce, and where seating can obscure the fielders return throws.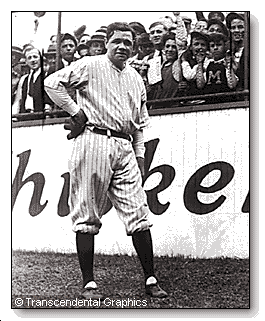 The parks great legend the "Curse of the Bambino" frames the emotional life Red Sox fans. In 1919 the Boston Red Sox sold Babe Ruth for $100,000 and a loan of $300,000 to the New York Yankees after he led the team to victory in the 1918 world series. Since then, the Yankees have won 22 World Series, the Boston never won another.

Fenway Park's interior is the site's true attraction. The park's depression era brick facade is utilitarian. Ticket windows and entrances are not well articulated, which combined with the parks irregular shape often sends visitors on a lap around the park to find their destination.

Despite recent additions of luxury seating in 1988, Fenway shows its age. The Red Sox, city planners, fans and neighborhood groups are currently engaged in the kind of development debate unique to Boston, in which rhetoric and local politics drive the planning process. After years of false starts and near misses, there is no absolute agreement on location or funding, let alone design.