Hungarian Monument
1986, by Gyuri Hollosy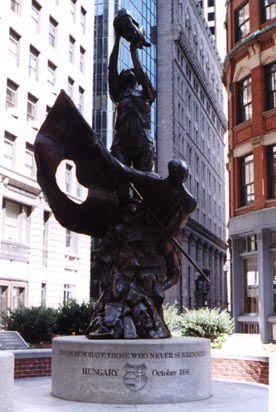 On October 23, 1956 students began a short-lived revolution against communist occupation. Assistance promised by Radio Free Europe and Voice of America never arrived.

Thousands died, and hundreds of thousands of intellectuals, artists, and supporters of democracy fled the country, to ports including Boston.

Annually Boston's Hungarian community gathers here to remember the revolution, and celebrate Hungary's long delayed freedom.

Why is this called Liberty Square?
Liberty Square existed with this name far before the revolution of 1956.

The popular theory is that near the end of the eighteenth century a sixty foot liberty pole was erected to commemorate the Stamp Act riots of 1765. This had been a loyalist neighborhood, and would have been a natural location for the King's stamp master.

However, the other explanation provided by Donlyn Lyndon's City Observed is that it was the site of a gigantic feast and celebration held in the area to commemorate the French Revolution.

Either way, Earl R. Flansburgh & Associates designed the current land use in the middle of Liberty Square, as well as the Angell Memorial statue area in nearby Post Office Square. Beautiful Victorian commercial buildings, such as 10 Liberty Square, make this a wonderful place to remember times and places unseen.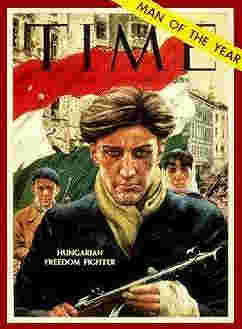 Related topics
Honorary Consulate of the Republic of Hungary, Boston
Time's 1956 Man of the Year, the Hungarian Freedom Fighter,
Institute for History of the 1956 Hungarian Revolution

Map to find Liberty Square