Robert Gould Shaw and the 54th Massachusetts Regiment
1883 - 1897
Augustus Saint-Gaudens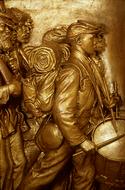 Shaw and the 54th
In 1861 at the start of the Civil War, the US Army prohibited enlistment by blacks. Yet, many Massachusetts blacks wanted to join the Union's efforts. Their desire was supported by a strong local abolitionist movement. After Massachusetts Governor, John Andrew pressed this issue to the war department which allowed blacks to join as enlisted men, but not officers.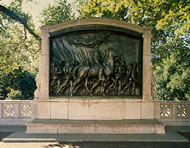 Some of Massachusetts' most prominent young men volunteered to lead the Massachusetts 54th colored regiment. Governor Andrew offered the command to twenty-six year old Robert Gould Shaw, the only son of Sarah and Francis Shaw. Harvard educated and raised at 44 Beacon St, Shaw was already a veteran of Antietam and Cedar Ridge.
Abolitionist leader, Fredrick Douglas, called for recruits and sent his own sons Lewis and Charles as well. When the enlistees learned they would be paid less than white soldiers, they forwent compensation until they were recognized on equal terms.
On July 18th, 1863, the 54th was chosen to lead the Union's attack on Fort Wagner, SC. This was a critical battle, in which the union found its self unexpectedly outnumbered two to one. Of the 600 men in the 54th which charged Fort Wagner, 272 were killed, wounded, or captured.
Shaw died with his troops was buried in a mass grave by Confederate soldiers.
180,000 black men enlisted and joined the Union in battle. Lincoln later credited this support as critical to extending the Union's effort. This further added to the moral cause of the North, making the 54th regiment an embodiment of the promise of the freed black community.
When the commander of Fort Wagner offered to exhume and return Shaw's body to his family in Boston, they declined, so he might lay with his troops.
The Artist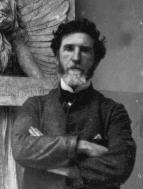 Among the preeminent sculptors of the 19th Century, Augustus Saint-Gaudens, grew up a young immigrant in the City of New York . He studied sculpture in Italy. A master of bas relief, Saint-Gaudens designed coins for us treasury. Considered his greatest work, the monument took 14 years. Dedicated Memorial Day, 1897 it was an instant success.
This is considered the first prominent work of art in which a white artist portrayed Black in sympathetic and personal terms. St. Gaudens modeled more than 40 heads based on human models, projecting the individual dignity of troop members.