New Old South Church (NOSC)
Cummings and Sears
Built 1874 - 1875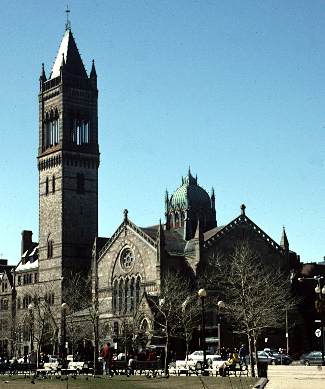 In 1869 the congregation of the Old South Church arranged for the sale of the valuable land beneath downtown meeting house and relocated to the newly established Back Bay. the paradoxical name "New" Old South was made necessary when the Old South Church was saved by preservationists, and renamed the Old South Meeting House.

This is a great contrast from their more sedate colonial environs at the Old South Church . Its 260 foot tall campanile settled unevenly, and was dismantled in 1931 and rebuilt to its current 246 feet. Even from this distance the tower's abundant ornamentation is clear. Its Northern Italian Gothic style adds exotic elements to the neighborhood's skyline.

The ornate Venetian lantern is centered over the NOSC chapel, and provided light and ventilation. Because of its bright colors, many passersby mistake the lantern as being part of some unseen building behind the church.

To the tower's right is a rose window flanked by a zebra-striped arch. The shape of this curve-sided arch is a Ruskinian form which Cummings and Sears repeat throughout the building.

The church provides a focus for the transition between the neighborhood of the Back Bay, and the larger scale institutions of Copley Square. It is the last of the many Gothic structures that filled the young Copley Square. Its Gothic points are in bold contrast to the academically styled Boston Public Library, and the Back Bay's many Second Empire homes.

However, most importantly, the New Old South Church is home to a congregation which after 330 years still are a persistent and progressive voice in Boston. These recent sermons provide a view into the living spiritual life of the Old South Church.