Old Boston City Hall
Gridley J. Fox Bryant & Arthur Gillman, 1865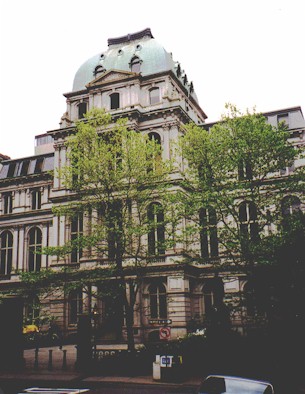 Old Boston City Hall provides incredible contrast to both the current City Hall, and to its predecessor the Old State House where the City's first two mayors served.

Today Old City Hall stands gracefully as a private building. Its massive lantern dome gives it a courtly feel, while the abundance of windows makes it a clearly bright and open space. The strong upward thrust of its pilasters which appear as columns is balanced by the hall's outstretched wings.

The Architects
Arthur Gillman, was a French trained architect and by 1865 had already built Arlington St. Church, and provided the French style design of Boston's Back Bay addition. Gridley Bryant was a master of granite, and had designed a wide variety of buildings including the striking Suffolk County Jail. The building combines their strong suits. The Vendome Hotel and the Suffolk County courthouse were both influenced by Old City Hall's success.

The courtyard before the building retains enough open space to provide an air of monumentality. Flanking the entrance is a statue of Ben Franklin to the left, and Josiah Quincy, Boston's Second mayor to the right.

Today Old City Hall, made of white Concord granite, contains a mix of corporate and civic offices, and Maison Robert, an aptly located French restaurant. Happily, Old City Hall is preserved without being antiqued, active without being destroyed, and still commands its site unchallenged.