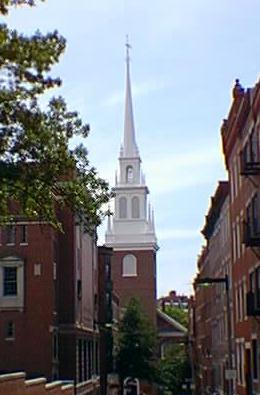 Christ Church/The Old North Church™ is the oldest church building in Boston. The first stone was laid by April 15, 1723. The building took twenty-two years to complete. It originally was an Anglican church, and is today an active Episcopalian congregation

The builders of the Church determined that it should represent the best of recent English architecture. It was built by William Price in the style of Sir Christopher Wren and was possibly modeled after St. Andrews-by-the-Wardrobe in Blackfryers, England. Its walls are made from 513,654 Medford bricks in a double English bond pattern that is two and a half feet thick. Timber came from forests around York, Maine.

Old North has a 175 foot wooden, three-tiered steeple. The steeple houses a peal of eight bells, which were cast by Abel Rudhall of Gloucester, England in 1744. They are the oldest church bells in America, and are still rung today. The steeple was toppled by two hurricanes. The first was in 1804, after which it was rebuilt from a Charles Bullfinch drawing, and again in 1954. The original weathervane by Deacon Shem Drowne, a Colonial craftsman, still tops the spire. On September 13, 1757, John Childs became the grandfather of American extreme sports when he strapped an umbrella-like contraption to his back and, to the delight of the crowd below, jumped from the tower, landing safely a few hundred feet away.

The steeple was immortalized in Henry Wadsworth Longfellow's poem, "The midnight ride of Paul Revere." On April 18, 1775, sexton Robert Newman climbed the steeple, and briefly hung the two lanterns that touched off the revolutionary war. The original window through which he left the building was bricked up in 1815. It was rediscovered during restoration work in 1989, and now houses a Third Lantern that was lit by President Ford on April 18, 1975 as a symbol of freedom and renewed resolve for the next century of our Nation's life.

In the interior, many original features remain today. High box pews were designed to retain the warmth of hot coals or bricks placed on the floor during wintry days. Its gleaming brass chandeliers were gifts of Captain William Maxwell. They are surmounted by a dove of peace, and were first lighted on Christmas day, 1724. Parishioners Avery and Bennet built the clock at the rear of the Church in 1726. Above the clock are four polychrome wooden statues of cherubim, which were installed in 1746.

Dr. Timothy Cutler, the chapel's first minister (Yale's first president), delivered its first sermon at the Old North Church on December 29th, 1723, and from then it has continuously served its congregation. The nickname, "Old North", was traditionally applied to whichever North End church was the oldest at a given time, so during the American Revolution a different church would have then been called "Old North."