Harrison Gray Otis' Second House
Charles Bulfinch, 1802

Anomaly on Beacon Hill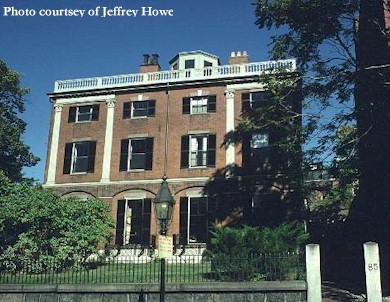 Harrison Gray Otis' mansion at 85 Mt. Vernon is the last remaining freestanding residence in the area, an artifact of Charles Bulfinch's design for Beacon Hill. Its lofty facade is amplified by the garden setting, a rare reminder of Beacon Hill's rural past.

In the Federalist style, the home is symmetrical, uses smooth faced brick, and incorporates classical elements such as the broken entablature over floor three supported by corinthian pilasters. The triple hung windows framed by blind arches establish floor one as the piano nobile, with each succeeding floor diminished. Emphasized key stones above the central windows on the third floor gives life to the building's center.

The balustrade breaks the roofline, and completes the framing of the home with the pilasters running down the sides. The top of the house, particularly the balustrade and octagonal cupola, brings an expansive feel to what might otherwise seem to be a more finite or "squared" structure.