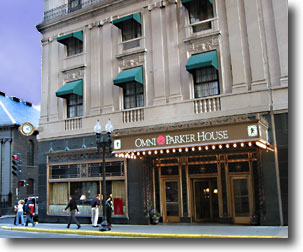 Omni Parker House Hotel
Founded: October, 1855
The Parker Hotel, named after founder Harvey D. Parker, opened its doors in October of 1855, and is the longest continuously operating hotel in America.
A luxurious place of which any Boston Brahmin would approve. The hotel and its restaurants are credited with a slew of famous firsts, including Boston cream pie (the state's official dessert ), ParkerHouse rolls, and the term "scrod." Parker's Bar, a mahogany and stained glass haven, is the perfect spot for having a drink by the fire, and The Last Hurrah is modeled after the traditional Boston bar of the bygone era.
There have been quite a few interesting people that have stopped by over the years. Ho Chi Minh was a busboy, and Malcolm X was a waiter. John Wilkes Booth stayed there a week before he shot Lincoln.
What makes the hotel illustrious, though, is it's literary past. No less than British novelist Charles Dickens was impressed with the "hot and cold bath" in his room at the Parker House on his second visit to Boston in 1867. This was the first hotel in Boston to have hot-and-cold running water, and the first to have an elevator.
The hotel's most famous group of patrons was certainly the members of the nineteenth century Saturday Club. Beginning in the mid 1850s, a exclusive group of talented people assembled in the old Parker House on the last Saturday afternoon of each month. Their notoriously rambunctious roundtables featured readings, intellectual exchanges, and endlessly flowing chatter, mirth, food and spirits. The Club's members included philosopher Ralph Waldo Emerson, poet and Atlantic Monthly editor James Russell Lowell, novelist Nathaniel Hawthorne, poets John Greenleaf Whittier and Henry Wadsworth Longfellow and writer Oliver Wendell Holmes.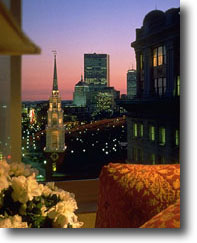 Hotel with a view
Parker House has more claims to fame than hosting 19th-Century literary figures. It remains a popular place for Massachusetts politicians. John F. Kennedy announced a run for Congress there in 1953 in a room since called the Press Room. Theatrical people such as Sarah Bernhardt and Joan Crawford stayed there. So did Ulysses S. Grant. Today, Parker House is the only hotel on Boston's Freedom Trail.