Prudential Center Complex
Kallman and Associates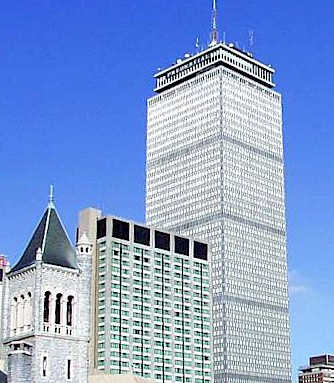 At 750 feet and 52 stories the Prudential was Boston's tallest building for almost 15 years. The relatively unarticulated (though well labeled) exterior towered above what was an unheated plaza-based mall, which was open to strong winds reflected downward by the building. Exaggerated concern for parking and security prevented street-level access, effectively cutting it off from the life of Boylston Street. As if to complete this terrible trifecta, in the 80s its observation deck was devoted to restaurant with a rotating dining and disco floor.

In the early 90s the Prudential Center was sold and redeveloped by Boston Properties, and now houses a mall as upscale and specialized as anything you'd find in Generica. Upstairs is the very successful Top of the Hub, which is perhaps Boston's best restaurant view, where you can sit in far more comfortable surroundings, and have a cool beverage, with the option of dinner and jazz. You may even see iBoston's webmaster there.