Revere House
1681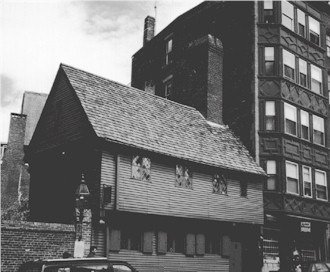 The Howard - Revere house was already over 90 years old when thirty-five year old Paul Revere purchased in in 1770. Its first owner, merchant Robert Howard, had it reconstructed in the years following the great fire of 1676.

Built of earth and wood, little remains of early colonial architecture. Over three centuries the house was modified to be a store, candy factory, and was eventually restored to this interpretation of its colonial condition. Little if any of the original house remains, but the building provides some idea of the area's early dwellings.

Medieval in style, its high pitched roof easily sheds snow. Its huge timber posts are evident even from the exterior, and are ornamented where they protrude from the walls. The second floor overhang is also typical of medieval homes, which grew out as they grew up.

Survival against the elements was the ultimate function of colonial architecture. The horizontal clapboards, wood shingles and casement windows all add to the house's weatherproofing, as does its huge central fire place. Its low ceilings make the house easy to heat, and its relatively small windows help retain warmth. Also, its interior walls are "roughcast", coated with earth to prevents drafts and fires.
Besides being an industrious businessman and energetic patriot, Revere fathered sixteen children over thirty years. Though they never all lived beneath the same roof, Revere's family was recognized an exceptionally large one. The Revere family was exempted from quartering British troops, as they could demonstrate there was little free space in their home available.

Over the following generations the house became a candy factory, grocery store and tenement. Between 1905 and 1910 the house was threatened with demolition, and purchased by a group of citizens, The Paul Revere Memorial Association. They restored the house to approximately how it was when John Jeff built it over 200 years earlier.