Henry Hobson Richardson
(1838 - 1886)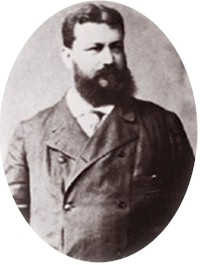 Raised just outside New Orleans less than a generation after the Louisiana Purchase (1803), the architecture that surrounded the young Henry Hobson Richardson were the colorful stucco designs now preserved in New Orleans. Though his family was American, the predominant French culture of the area insured his fluency in the language when he arrived at Harvard (Class of 1859). Though Richardson had considered a military career and applied to West Point, for uncertain reasons he was denied admission, and instead attended Harvard.

When HH Richardson graduated, the the tensions which brought America to civil war were already present. Rather than return to Louisiana or remain in the North, Richardson studied in Paris at the Ecole des Beaux Arts. While there, Richardson made several trips to London, and traveled through rural England with his friend Henry Adams. He also traveled through Southern France and Spain. Photography was considered a specialty art, and on these trips he gathered photographic post cards which would comprise a library of over 3,000 images. The scholar Margaret Henderson Floyd notes these would later hang in his office, and be referred to extensively in his writings.

He returned to the United States and began to practice as an architect in New York. There he married and started a family on Staten Island. Richardson served with on the Staten Island Commission with Fredrick Law Olmsted. After completing several commissions in Boston, H.H. Richardson relocated to Brookline, MA, in 1874, and would practice here for his remaining twelve years. Olmsted relocated to Brookline in 1883, and enjoyed continued friendship and collaboration with Richardson.



A detailed description of Trinity Church's design and construction by its architect, Henry Hobson Richardson.
To download Acrobat, a free PDF document reader, click here.