Rowe's Wharf
Adrian Smith of Skidmore, Owings and Merril
Built 1987-1988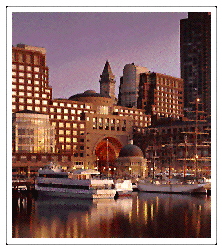 "A building can not be a human building unless it is a complex of still smaller parts, which manifest its own internal social facts."
-Christopher Alexander

From the sea its double arched portico correctly appears as the entryway into the city. From the land Rowe's Wharf reconnects the city to the shore, and reminds us of Boston's history as a seafaring town. Unlike other buildings that fit into a neighborhood, Rowe's Wharf defines a space yet to come. As the barrier of the central artery is removed, and the waterfront is developed, Rowe's Wharf and the Boston Harbor Hotel are positioned to be a hub of a new city waterfront.

The City's planning board,The Boston Redevelopment Authority (B.R.A), set objectives for developing Rowe's Wharf, and invited competing firms to create competing plans. The design rules specified the complex would provide a public interface to Boston Harbor and water transportation, preserve specific city views, and encourage pedestrian traffic. The complex incorporates these in ways that contribute to the success of its commercial enterprises.

The final design is clean and intelligible. The double arch portico visible in this distant photo announces the complex's main entry. Walking around Rowe's Wharf, one can discern from the outside which spaces are most likely offices, condominiums or The Boston Harbor Hotel. These functions are divided into three main buildings. The condominiums have private entrances and balconies with lawn chairs and gas grills; the offices form a small, stepped, high rise, and the hotel has the largest windows, with good harbor views, especially in its dining areas.

Rowe's Wharf is consistently decorated with reoccurring curves and circles. It draws on classical images, but uses them in contemporary ways. Pilasters are poured into the first floor cement and topped with vertical circles. The Chicago-style windows are flanked by individually poured cement slabs, which are fit together to appear like stone. The rotunda supported by twin arches creates a church-like space, that reminds one of the internal arches of Trinity Church. Globe lamps appear all around its exterior, as do granite blocks strung with black anchor chain that outline the walkways.

Finally, there is a little known observation area on the 9th floor, the Forester Rotunda. Its outward facing windows have views in all directions of the city and harbor, and inward facing windows look directly down on its courtyard. Though not advertised, it is usually open to the public through the Boston Harbor Hotel.