Trinity Church
H.H. Richardson, Built 1872 - 1877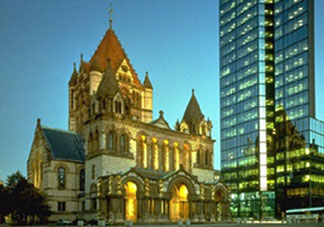 James O'Gorman described Trinity as "a cultural event of the first importance in American history." The building both represents a departure of the Boston's mind from its Puritan past, and emergence of American creativity as a force in architecture. However, Trinity didn't happen for architecture's sake, it happened in no small part because of its pastor, Phillips Brooks.

Richardsonian Romanesque
Like all Romanesque architecture, Trinity is articulated with round-headed arches. The Richardsonian style draws on the strength of rusticated rock faces, with structural features like arches and lintels made of a different type of stone. Plain areas left almost unfinished are also part of the style. Deep window revels and wrought iron ornaments amplify the building's feeling of massiveness. Rounded protruding bays topped with cones, and square towers are topped with pyramidal tops are hallmarks of this style.

Richardson used bold ornamentation in ways that define sections of the building. Here on Trinity, the lower part of the building is dark, the top is red. Chevrons highlight the front protrusion of the church. A continuous band of checkerboard circles the chapel, like a belt, bringing the lower and upper sections together. Though incorporating styles from many origins, Richardson disciplined his designs. Form served function, and was often based on the careful use of ratios and symmetrical balance.

Trinity's Unusual Construction
40 years before Trinity was built the 580 acres comprising Boston's Back Bay neighborhood were tidal marsh and unable to support buildings. Turning this marsh into a fashionable neighborhood and nearly doubling the city's area makes filling the Back Bay one of America's most ambitious public works projects.

Trinity Church's main building materials are Monson granite and Longmeadow sandstone. Its tower alone weighs 90 million pounds. To support this immense weight, 4000 cedar piles were pounded beneath the water table in a ninety foot square. Unlike its neighbor The Hancock Tower which had the advantage of manufactured materials like concrete and iron piles, all the piles supporting Trinity Church are made of wood.

These piles support four granite pyramids (35 feet square, and 17 feet high) which form a "pass through" area where water rises and falls. If the wooden piles are exposed to air they would begin to rot. A pumping system measures the underground water level, and keeps it somewhere in the 17 foot range of the pyramids. The same wooden piles have supported Trinity Church since its construction.