iBoston.org is your site for Boston history and architecture. In addition, you can find
information on Boston's public places, art, historic people and events. iBoston also
has a research area where you can learn how Boston grew physically as well as in
population.

This Day in Boston History
September 22nd, 1960

Boston Levels a Seedy Neighborhood;
Builds a Sterile One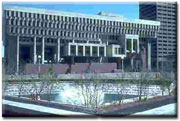 On this day Mayor Collins announced a 90 million urban renewal initiative. Twenty-five percent of the city of Boston would be leveled and rebuilt to create the government center office plaza where the city's burlesque district Scollay Square had been.
| | | | | |
| --- | --- | --- | --- | --- |
| | | | | |
| | | England's Prime Minister never expected this tea tax to cause an outcry, let alone revolution. In 1767, England reduced its property taxes at home. To balance the national budget they needed to find a mechanism for the American colonies to pay for the expense of stationing officials in them. The officials would generate their own revenue by collecting taxes on all imported goods, and once paid affixing stamps on them. This Stamp Tax generated more in the way of protests and smuggling than added revenue. | | Religion. Politics. Rebellion. Boston's pedigree was forged back in England in the midst of religious dissension, where Puritans and Pilgrims sought religious reform, and Cavaliers and Roundheads vied for political power. The question isn't where did Boston get its name – but how. |